Swansboro Mullet Festival of North Carolina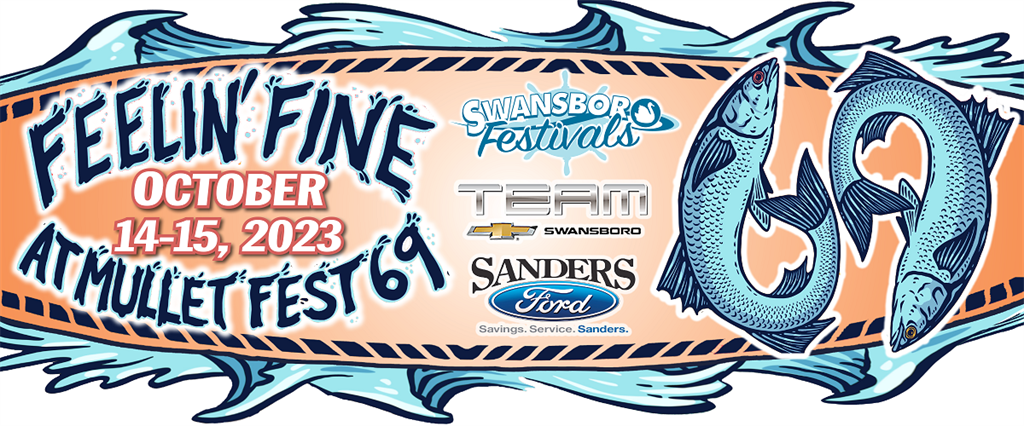 The 69th Annual Swansboro Mullet Festival of North Carolina
presented by Team Chevrolet of Swansboro and Sanders Ford
The Swansboro Mullet Festival, the oldest festival in the Crystal Coast, began in 1954. The weekend centers around the small, bony fish that appears as having a purplish-blue tint when found in Eastern North Carolina waters. Swansboro natives remember days long ago when mullets were hauled to shore in nets hooked to tractors along the beach. In 1954, mullet fed the workers building the White Oak River Bridge that later became a vital link between Onslow and Carteret counties. Upon its completion, the conception of the Mullet Festival began. It was a way to celebrate the arrival of the modern era in bridge form. The event started as a potluck-type event with the town coming together and contributing to the celebration.
​Today, the Swansboro Mullet Festival has expanded into a two-day festival that offers locals and visitors a glimpse into history combined with a modern celebration of all things mullet. The 69th Annual Swansboro Mullet Festival of North Carolina is presented by Team Chevrolet of Swansboro and Sanders Ford of Swansboro. The festival will return to Downtown Swansboro on October 13-15, 2023.
The weekend festivities kick off on Friday, October 13, with The Blessing of the Fleet. The Blessing begins at Casper's Marina at 6 p.m. All boat owners are welcome to participate. A wreath will be dropped in memoriam of boat owners who have passed.
This is for:
*those who work on boats
*those who protect our country
*those who provide food from these waters
*those who use these waters for family and pleasure
*any other boats and owners in our area
The celebration begins with the closing of Hwy 24 for the parade to lead the way downtown. Over 175 craft vendors along with food vendors will line the streets of downtown Swansboro, and of course the famous Mullet Fish Fry – there is truly something for everyone to enjoy. Admission to the festival is free. Downtown streets will be closed to vehicular traffic both days. Visitors are asked to leave their pets at home.
In the Children's area several inflatables will be set up for kids to climb, bounce and slide on and a craft area for the little mullets. Many other activities will also take place throughout the weekend including the popular "Mullet Toss" in between band performances.
Shuttle service to the festival has been a HUGE success for the festival and patrons of the SWANSBORO MULLET FESTIVAL will continue to be offered shuttle service. Shuttles will carry festival attendants from the parking area at Ward Farm (located behind Hampton Inn) to drop off/pickup at Swansboro Town Hall. Shuttles will run on Saturday 9 a.m.-10 p.m. and Sunday 9 a.m.-5 pm. Accessible parking is available at Swansboro Town Hall.
Music and entertainment are always big hits of the festival, and this year's lineup is sure to please the crowd. Festival goes can enjoy a variety of musical entertainers all day, both days of the festival at the Pugliese Pavilion on Church St. and the Mattocks Stage on Moore St. This year's headliner, JTucker and the Krew kicks off at 6 pm on Saturday night.
For more detailed information, entertainment schedule, vending opportunities, or if you would like to volunteer, please visit the festival website –www.swansborofestivals.com or call 910-326-2600.
Piratefest 2023
Presented by Team Chevrolet of Swansboro
Ahoy Matey! Onslow County and Swansboro Parks and Recreation Departments proudly present Pirate Fest coming to Downtown Swansboro, NC. Pirates are coming to town, and we need shipmates to swab the deck, walk the plank, and hunt for pirate treasure! Watch as swashbucklers engage in sword fights, listen to musicians sing sea shanties, and visit with live mermaids at this all-day event that brings coastal North Carolina's rich pirate history to life. This free family-friendly event also includes games and activities for the little buccaneers. Visitors can enjoy pirate shows, live music, pirate encampments, and take photos with sirens of the sea. Aaargh! Ship sets sail, so chart yer course for Saturday, May 134th, 10am-4pm, downtown Swansboro.
PirateFest is sponsored by Team Chevrolet of Swansboro, Onslow County Tourism, Curtis Media, and Darden Insurance Agency.
For more information, please contact Onslow County Parks and Recreation at 910-347-5332 or Swansboro Parks and Recreation at 910-326-2600.
PIRATE ENCAMPMENTS
The Cannon Crew-Main Street Dock
1700's fishing/pirate camp.
Learn early fishing techniques using traps, netting, gigs, poles, and harpoons.
See demonstrations on candle making, carpentry, sewing, and making string and twine.
Sword Conservatory- Across from Olde Town Square
Pirate/Maritime Historical Combat group demonstrates sword fighting with cutlass and sabre.
Learn how naval edged weapons were used when one crew boards another ship to take it as a prize and how another crew fought in defense.
Take an introductory lesson in cutlass fighting and fight a pirate or sailor!
Pirate Trading Ltd.
Interactive living history encampment
Learn about leather smith, raw textiles, navigating ships, see the daily life of a pirate.
Kids pirate school.
PIRATE ENTERTAINERS
Motley Tones- Olde Town Square
Be on the lookout for a band of buccaneer merrymakers known as The Motley Tones! This musical act will be performing an eclectic mix of period and not-so-period maritime tunes, sea shanties, madrigals, love songs, and children's songs. Come sing shanty's with pirates at Olde Town Square. Onslow County Parks and Recreation and Swansboro Parks and Recreation invite you to come on out and belt a tune!
New Bern Puppeteer
Enjoy family-oriented puppet shows, "Blackbeard's Cursed Treasure"
After the show visit with puppeteer for demonstrations and questions.
Show will occur throughout the day, approximately every 15 minutes.
The Circus Siren
The Mermaids are coming! The international performers of the Circus Siren Pod are swimming over in their 1000-gallon mermaid tank. Stop by the tank to meet a real mermaid, snap a photo, and even get a real pearl from one of the oysters in the tank that mermaid will find just for you! It wouldn't be a pirate festival without mermaids!
Scallywag Scavenger Hunt- Olde Town Square
There be mischief afoot! Search for PirateFest's most wanted faces and places.
Get your most wanted poster from the information booth at the Olde Town Square.
Turn in your most wanted poster for pirate booty!
Other Attractions
Mermaids
Turtle's Lair Photo Opportunity Experience.
Activities for the little buccaneers.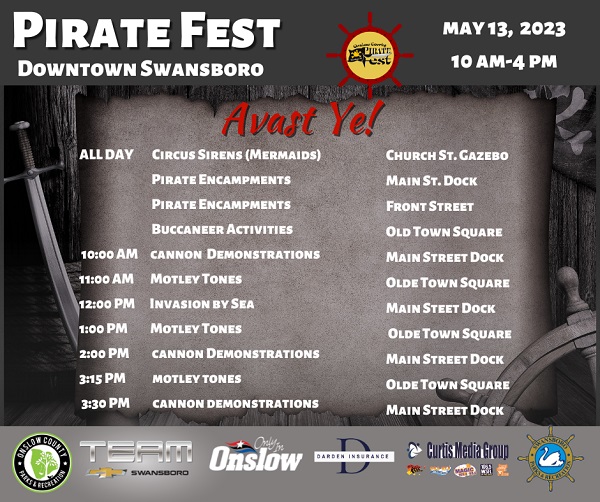 2023 Sponsors
THANKS TO ALL OF OUR
Independence Day Celebration
July 3, 6-10 PM
Celebrating our country's birthday is a nationwide event, and Swansboro serves up its Independence Day Celebration each year with live music at the Harry C. Pugliese, Jr. Pavilion at Olde Town Square, culminating with awe-inspiring fireworks show over the water for all to see. The Independence Day Celebration is July 3 and begins at 6 pm with the singing of the National Anthem by Velvet Rodeo, followed by The Tams till 10 pm. Fireworks are at 9 pm. There will be food/snack vendors and encourage patrons to visit the downtown restaurants. This Independence Day Celebration is presented by Team Chevrolet of Swansboro, Onslow County Tourism, Sanders Ford Swansboro, Swansboro Tourism Development Authority, The Town of Swansboro, and Curtis Media Group. For more information, please contact Swansboro Parks and Recreation at 910-326-2600.
Street closures will be implemented at 3 p.m. Front Street will be closed to vehicular traffic as well as Main and Church Streets up to Elm Street. Water St. will be closed from Moore St. to Broad St. In addition to street closures, all public docks will be closed to pedestrian traffic. Church St. Dock will be closing at 4 p.m. and dockage will be limited to vessels with reservations only.