Announcements & News
Pound Fitness - January 21-February 18, 9am-10am
Come get fit with Ripstix! Join us at the Swansboro Recreation Center for our 5-week Pound fitness class with OFFICIAL POUND Instructor Karen Daly on Saturday's from 9 AM to 10 AM. Pound is a fun, total body workout that fuses the best strength training, Pilates, and cardio moves through drumming exercise. The use of Ripstix, lightly weighted drum sticks, challenges the body's stability and balance resulting in constant core activation.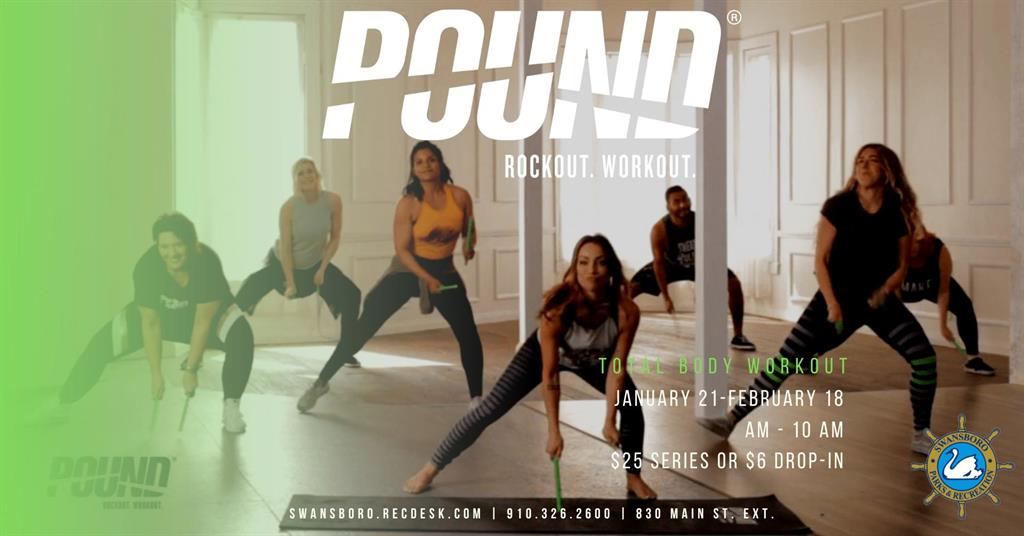 2023 Pickleball Open Play Annual Membership
The 2023 Pickleball Open Play Membership will start January 1, 2023 and run until the end of the year, December 31, 2023. This is a casual and co-ed season perfect for any age or ability. The league will meet Monday through Saturday mornings from 8 am to 12 pm (summer hours) and 9 am - 1 pm (fall/winter hours). $35 for resident and $40 for non-resident for the entire season, or drop-in fee of $5 for any one session.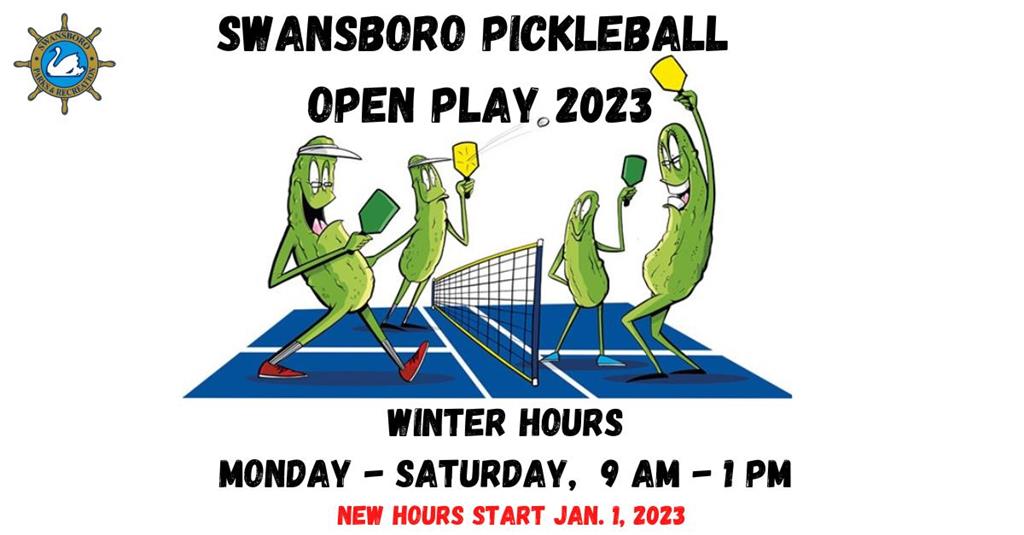 Plate Art Workshop - February 16, 6:30-8:30pm
Join Swansboro Parks & Recreation and Instructor Carol McDearmon for a Plate Art Workshop on February 16 from 6:30-8:30PM.
This 2 hour workshop will uncover the pitfalls, trials, and tribulations of creating SUCCESSFUL PLATE ART for you to display and use indoors and/or outdoors year. From Flower Yard Art to Charcuterie Towers to Home Decor (mantel, bookcase,tabletop displays).
Work from some of your own favorite plates brought form home as well as from a "startup" selection provided to create a plate flower, plate tower, or plate home decor piece. AND bring a plate of two to trade! Additional pieces and embellishments from a private collection will be available to purchase. Invite a friend to join you!
This workshop will cover: selection of pieces (do's and don'ts); intended use; balance and design; and tricks of the trade.. A description of best pieces (shapes, sizes, weights, etc.) and details will be provided along with a list of small tools you may wish to bring once the workshop has filled.
Fee: $45 includes materials for one make and take start-up design.
Teacher Workday Kids Camp
Sign your kids up with Swansboro Parks & Recreation on Teacher Workdays for our Kids Camp. This full-day program will offer a variety of activities including group games, sports, arts and crafts, and more! Camp hours are 8 AM - 5 PM. Pre-registration is required. $25R/$35NR per day. Grades K-5. Children can be dropped off as early as 7:30 a.m. and must be picked up by 5:30.p.m. Pre-registration is required. Register today at:

https://swansboro.recdesk.com/Community/Program?category=18
Theatre Trip: Rehearsal for Murder - February 26, 2:30-6:30pm
Join us for a trip to the Theater! Swansboro Parks and Recreation will be providing transportation and tickets to Legacy Theater Company's production of Rehearsal for Murder in Jacksonville, NC on February 26, 2023.
"Legacy Theater Company is excited to open our 2023 season with the murder mystery REHEARSAL FOR MURDER. Adapted for the stage by D.D. Brooke. From the television play by Richard Levinson and William Link. REHEARSAL FOR MURDER is an exhilarating mystery by the creators/writers of Murder She Wrote and Columbo which promises to leave you laughing and guessing "who did it" all the way through!"
Check in will be at 2:45pm at the Recreation Center (830 Main St Ext)
We will be departing at 3:00 pm for a 4:00 pm showing. For more information or registration go online to swansboro.recdesk.com call 910.326.2600 or stop by 830 Main St Ext.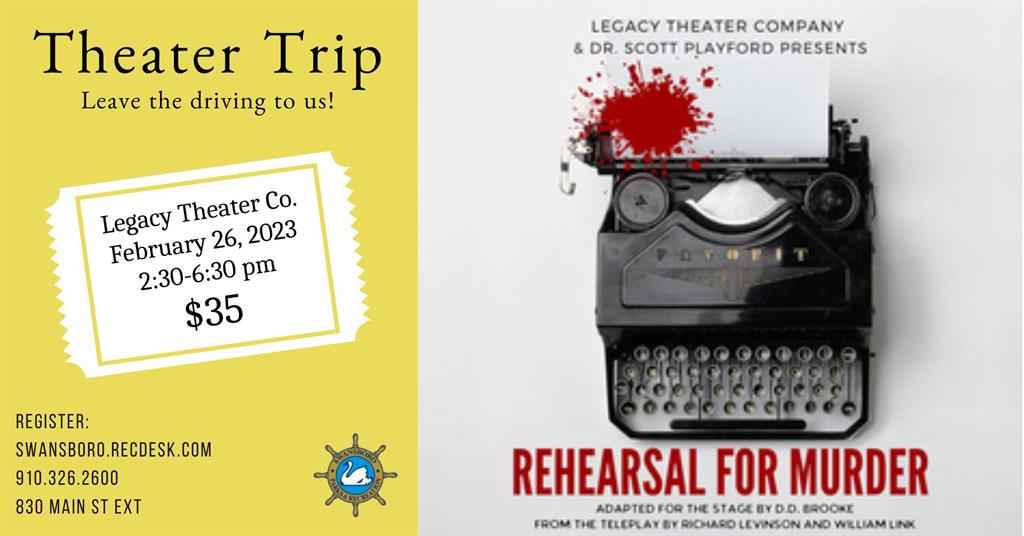 Art in the Afternoons: Early Release Days
HEY KIDS! USE YOUR BREAKS TO CREATE!
Spend early release afternoons stretching your creativity. Draw, paint, create mixed media and more while exploring your self-expression. Each Early Release Day afternoon offers different activities and lessons designed for children who love art. Time and quiet space will be dedicated to address and organize homework. $35 per afternoon includes materials/supplies.
November 8:
DID YOU KNOW MONARCH BUTTERFLIES ARE STILL IN MIGRATION? Create your own story board about these extraordinary pollinators using your choice of acrylics, watercolor, pastels, colored pencil, markers, collage…following a special program MONARCH KEEPERS by visiting Park Ranger, Renee Evans from Swansboro's Hammocks Beach State Park. And learn how you can help them.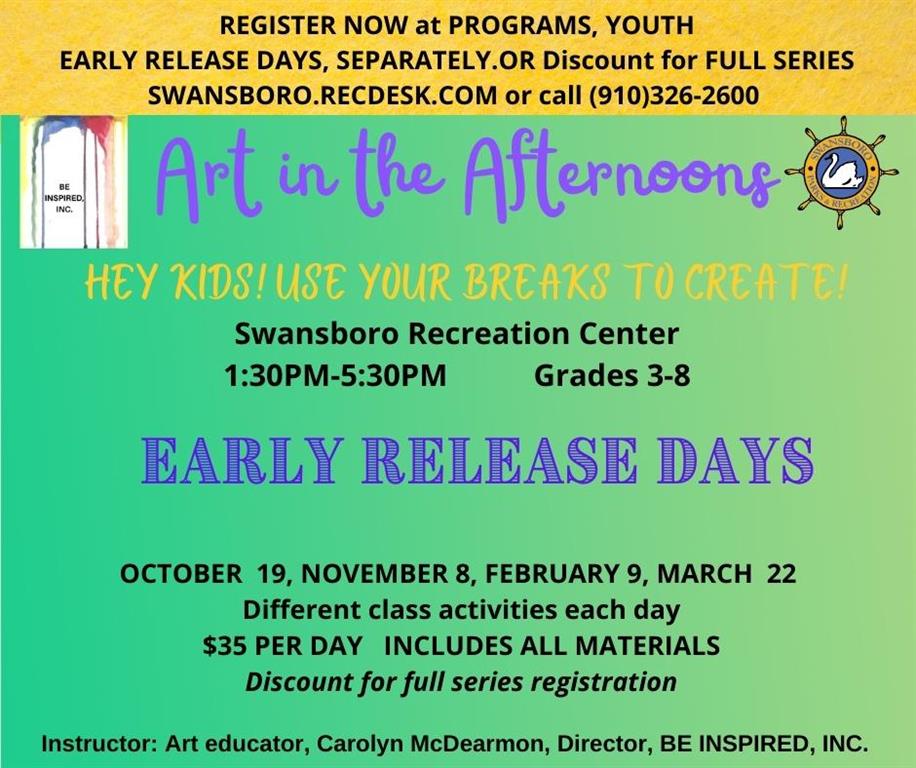 2023 Seaside Book Buzz - Monthly Book Club
Join us for an exciting season of reading! This selection is sure to pique your interest.
Season membership is available for $10 through the Swansboro Parks and Recreation Department. Meetings are scheduled below at 6-7PM ET at Dini's Martinis on Front Street in downtown Swansboro.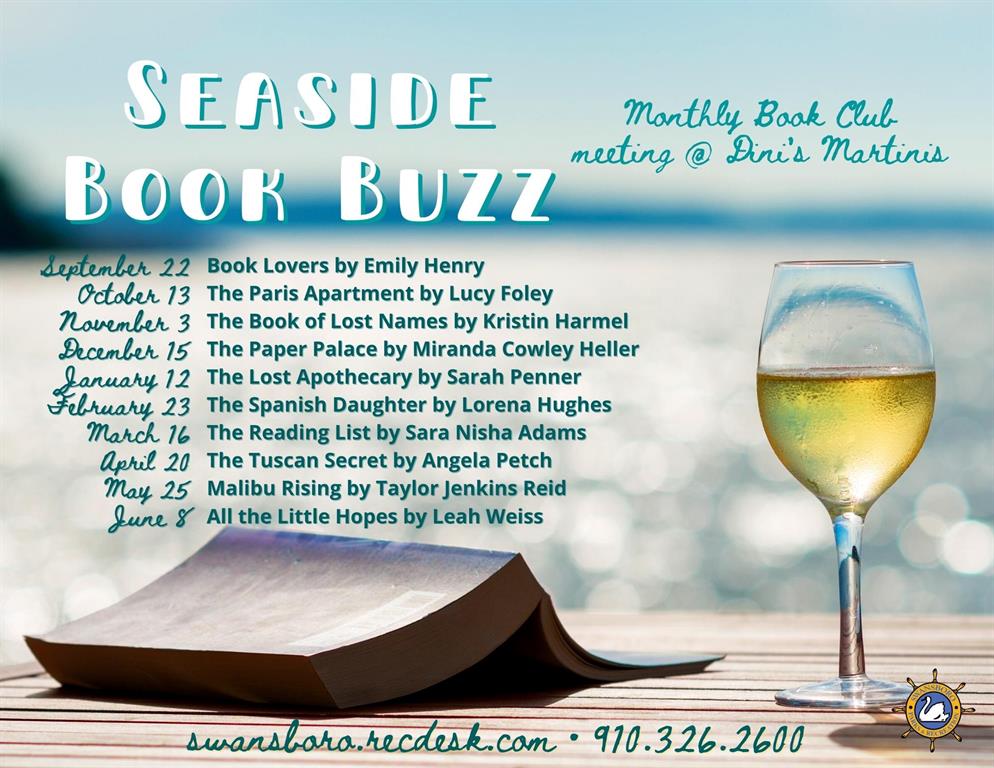 Info
Swansboro Parks and Recreation
M-F 9 a.m.- 7 p.m., Sat 8 a.m.-Noon
To register online, make sure you have created or are logged into your RecDesk account and then head to the programs tab to sign up today.