Announcements & News
Gingerbread House Decorating - Dec 9 & 12
Join us on December 9th from 3-4:30 PM or 5-6:30 PM or on December 12 from 10-11:30 PM or 12-1:30 PM for 90 minutes of fun family gingerbread house decorating. Flaunt your creative side and make the perfect centerpiece for your holiday celebrations. Our hands-on, no baking family class will supply each parent/child team with the necessities to create a colorful, candy decorated Gingerbread house. Space is limited so be sure to pre-register. One gingerbread house will be provided for each family. Registration is $15 per each family of 3.
*This program is limited to 3 persons per family.*
*Please register all 3 from your family that will be attending the program*
Register online at swansboro.recdesk.com. For more information, call 910-326-2600 or come by the Swansboro Recreation Center, 830 Main St. Ext.
Casting Resin Jewelry Class - December 15, 5:30-7:30 PM
Join Swansboro Parks and Recreation and make unique resin jewelry to give as a Holiday gift or to keep for yourself. Carla Paschal from the Wild Child Art Studio will be instructing this class. This is a basic UV resin jewelry casting mold class. Class will consist of open metal casting, silicone casting and UV resin application. You will go home with a finished piece at the end of the evening. All supplies will be provided. Registration is $45 per individual.
Elf in the Woods - Dec 16 & 19
Bring your toddler out for a afternoon of fun as we read the "Elf on the Shelf". We will go for a nature adventure walk in the woods to see what our elf has been up to. We will then work in Santa's workshop making elf and nature crafts. While making crafts, warm your insides with hot chocolate and treats. Program is open for ages 2-5, parent participation required, and $10 per parent/child; $5 each additional child. Call 910-326-2600 or come by the Swansboro Recreation Center, 830 Main St. Ext. Swansboro, for more information. You may register online by visiting swansboro.recdesk.com.
*This program is limited to two adults in order to accommodate more toddlers. Please let us know the total number that will be coming to the program.
Holiday Paint & Sip - Dec 18, 6-8 PM
Calling all adult painters and wine aficionados!!! Come join Swansboro Parks and Recreation and celebrate the Holidays with our Paint & Sip class on December 18 from 6-8 PM. Bring your own wine/beer to sip on while we create a holiday themed canvas painting using acrylic paints. This program is for adults only (21+) and all supplies for the class will be provided. We will also have some sweet snacks available during this program. Tell your mom and friends to register, or make it a date night and bring your significant other for this fun night at the Swansboro Recreation Center.
Kids Holiday Dash-n-Go - December 19, 10 AM-12 PM
Drive through the parking lot in front of the Swansboro Recreation Center on December 19 from 10 AM-12 PM and get an early Holiday present from some of Santa's friends. The first 100 kids will receive a Holiday bag from the Recreation Department (until supplies last) filled with toys, crafts, candy canes, and more. This event is first come first serve and bags are limited to one per child per car. No to-go bags. No registration is necessary for this event. For more information, call (910)326-2600.
Kids Holiday Camp- Dec 21-23 & 28-31, 8 AM-5 PM
School's out for the holidays! Spend a day of fun filled activities, arts and crafts, and games with Swansboro Parks and Recreation. Camp runs December 21, 22, 23 for session #1 and December 28-31 for session #2 from 8:00 am-5:00 pm. Children can be dropped off as early as 7:30 a.m. and must be picked up by 5:30 p.m. Lunch, two snacks, and a refillable water bottle will need to be provided each day. Cost is $25(resident), $35 (non-resident) per participant per day; $60(resident), $90 (non-resident) for all 3 days. Camp must be paid in full and is due when registering.
Bob Ross Paint-a-Long - January 7, 6-8 PM
Join us for a night full of happy trees, happy clouds, and zero mistakes- just happy accidents. We will be rolling with the best at our Bob Ross Paint Along! Everything you need will be supplied, just bring yourself and some paint clothes. In the words of the man himself, "lets get a little crazy here" You can pre-register by calling 910-326-2600 or come by the Swansboro Recreation Center, 830 Main St. Ext.
Virtual Recreation is now Live!
Click on the Virtual Rec tab at the top of the page to explore some great virtual resources
for you and your family
while staying at home.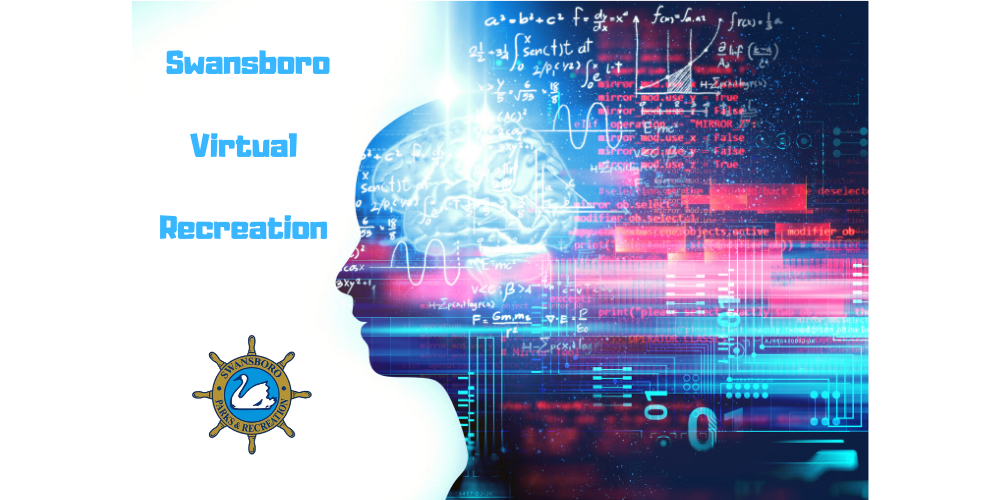 Info
Swansboro Parks and Recreation
910-326-2600
M-F 9 a.m.- 5 p.m., Sat 8 a.m.-Noon
To register online, make sure you have created or are logged into your RecDesk account and then head to the programs tab to sign up today.
Sponsors